Arrow for FAQ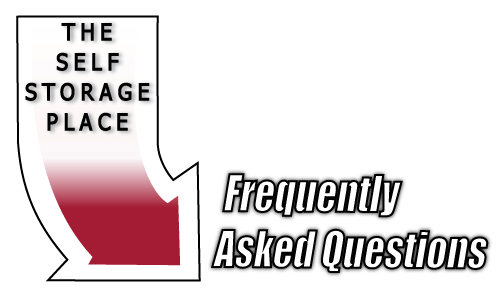 Q: I've never used self-storage before. What exactly does "self-storage" mean?
A: Your belongings or vehicle(s) are stored at our place by you and you pay rent on a monthly basis to do so. In turn, we provide security and care for your belongings.
Q: What if I want a moving company to deliver my things to storage?
A: If you've made arrangements with us beforehand; already set up a signed contract either electronically or by fax and prepaid for the unit, you can have movers move your belongings in without you. Doing so is an easy process and works well if you're not ready to arrive in town with your belongings quite yet.
Q: Can anyone else access my storage unit?
A: No one can enter your unit unless you have given them permission to either by putting their names on your account or by providing a letter of acknowledgement for them beforehand. They can either bring a key provided by you or pick up a key you've left for them at our office. Just arrange access ahead of time and we will gladly accommodate you.
Q: Do you sell storage and moving supplies?
A: Yes, we do sell padlocks; both the combination and the keyed varieties - we do not sell tape, or boxes on-site.
Q: How do I prepare my business records for storage?
A: Use records storage boxes with lids that can be taped shut. Mark your name and/or company name on the front of each box. We also recommend numbering the boxes and then using those numbers to create a master inventory list. That way, if you ever want a box retrieved by The Self Storage Place staff, you'll easily be able to instruct our team which box(es) you need.
Q: Does my car get its own indoor storage space?
A: No, vehicles are stored in bays. However, you needn't be concerned that anything will happen to your vehicle while it's in our care, as only our fully insured staff members will move it in and out of storage, and no member of the public will ever be alone with your vehicle. We work hard to ensure that everything you entrust to our care is kept completely safe.
Q: Can I store my motorcycle with my other belongings?
A: If there is room in your storage unit, you are welcome to store your motorcycle and belongings together. Your motorcycle's gas tank must be drained prior to storage in the unit.
Q: I'm leaving the country for a year—can I provide someone else's name as a contact?
A: Absolutely, and we feel it would be wise to do so, especially if someone else will be submitting payments on your behalf. We can also keep in touch with you via email—just provide it to our team before you depart.
Q: I'm interested in mailbox storage. Will you forward the mail received there?
A: Yes. We have many "mailbox customers" who travel or live out of the country, and we regularly send them parcels of forwarded mail.
Q: Can I get insurance?
A: If you have house insurance, it likely covers short-term use of off-site storage (be sure to check your policy). You can also purchase third-party insurance from us, that will cover water, theft, and fire damage.
Q: Where are you located?
A: We are two traffic lights from the Johnson Street Bridge and one street past Spinnakers Pub (which is on Catherine, just before Mary Street). If you're headed out of town on Esquimalt, turn right, towards the water.
Q: What do I need to provide when setting up a contract?
A. You need to provide two contact names; yourself as the primary but a reliable secondary contact also. Someone who can take care of things, if you are out of town - or unavailable. Someone who can make decisions for you, if necessary, and most certainly get a message to you via email or an alternate private number. Note: A partner or mate you live with does not work well, as an alternate because often if away you are together so they are not useful, as a secondary contact.
Q: I need to leave on the 1st when I move into a new apartment, do I have to pay for the whole month?
A: No we will only charge you that one day - if you move out on the 1st day of the month. That's our "new home" gift to you!
---
Also having a good email address to share with us, is good business sense when leaving your belongings - we'll stay in contact.
Don't see your question here? Get in touch with our team and we may even add it to our FAQ page!